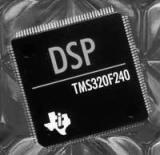 The TMS 320F24x is a series of specialized Digital Signal Processors (DSP) for the motor control and embedded process automation realm. We used this processor in two three phase control projects. One involving a motor and inverter, the other involving an inverter only.
The device features a standard TI core with a harvard architecture with an independent data flow for optimal parallelism in signal processing and control algorithms. Many control applications include digital filtering. Some control algorithms are mathematically equivalent to a digital filter. The DSP core is optimized for these tasks in many ways. One example is the "MACD" instruction, that performs a "multiply", an "add" and a "data move" within one cycle (50 nS) if repeated in a loop.
The specialty of the TMS 320F24x lies in the on chip peripherals. The two independent 10 Bit S/H converters allow conversion times in the range of a few microseconds and form a complete acquisition subsystem. The "event manager" includes multiple timers and a sophisticated high resolution PWM stage with multiple independent outputs.
The Space Vector Modulation is ideal for motor and inverter control. The algorithm is already realized in hardware, the control software needs to compute the vectors only, pulse generation is automatically performed by the event manager. The processor's JTAG interface allows real time emulation of the hardware design without the need for an expensive hardware emulator. The flash memory can be programmed on board, allowing easy software updates anytime during product life.
A comprehensive set of development tools allows quick program development in either C or assembler. Libraries and complete motor control software is available through TI's extensive third party network.
For further information regarding Ti products and the motor control DSP's click here.